Soroptimist International of Ventura, California, a local service club for business and professional women with the goal of making a difference in the lives of women and girls, announces that applications are now available for two scholarships.
Women who serve as the primary wage earners for their families and seek assistance to go back to school or receive special training can apply for the Live your Dream Award (Formerly the Women's Opportunity Award) to help them improve their skills, education or training to upgrade their employment status. SI Ventura's cash award will be a minimum of $1,500 and the winner is eligible for additional regional and international awards. Applications are available at Ventura College, from Sherri Tarpchinoff Bennett and online at www.soroptimistventura.org. The application deadline has been extended and must be received by January 15, 2017 at SI Ventura, P.O. Box 6133, Ventura, CA 93006 or by following the online instructions.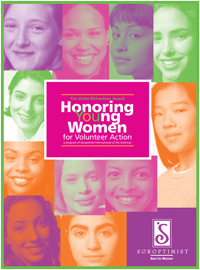 Teen volunteers are encouraged to apply for the Violet Richardson Award which honors young women for their volunteer efforts in their school or community in such areas as fighting drugs, crime and violence, improving the environment, feeding those in need, working to end discrimination and poverty. It is awarded annually to a Ventura teen, ages 14-17 and her volunteer organization. The minimum award from SI Ventura is $1,500. Applications are available in the Counseling offices of Buena High School, Foothill Technological High School, El Camino High School, St. Bonaventure High School and Ventura High School. You may also download the application online at www.soroptimistventura.org. Applications must be returned by February 15, 2017 to SI Ventura, P.O. Box 6133, Ventura, CA 93006 or by following the online instructions.